We understand that you have many choices when selecting an agency or choosing an independent surrogacy journey.
Guided Family Solutions is founded from the central core of bringing a more personal, customized, and caring approach to surrogacy based on our own personal surrogacy experience.
To learn more about becoming a Surrogate, complete our quick & easy application below.
Surrogate Qualifications
Prior to applying to Guided Family Solutions, potential surrogates should meet the following qualifications:
Between 21-43 years of age (40 and above may need additional medical clearance)
Uncomplicated pregnancies
Completed building their own family
Non-smoker
Drug Free
BMI under 34
Uncomplicated medical history
Willing to self-inject medications
Willing to have a medical, psychological, and criminal background screening
Supportive Family
No state or government assistance
Reside in a Surrogate friendly state
Matching Process
After meeting the Surrogate qualifications and completing an application, Guided Family Solutions will discuss your desires for matching with Intended Parents. At this point in the process, Guided Family Solutions will coordinate a medical record review, background search, and a psychological evaluation.

After the successful completion of these steps, we will immediately begin to work to find you a match that meets your criteria.
Guided Family Solutions is dedicated to finding you a match that you will feel comfortable working with.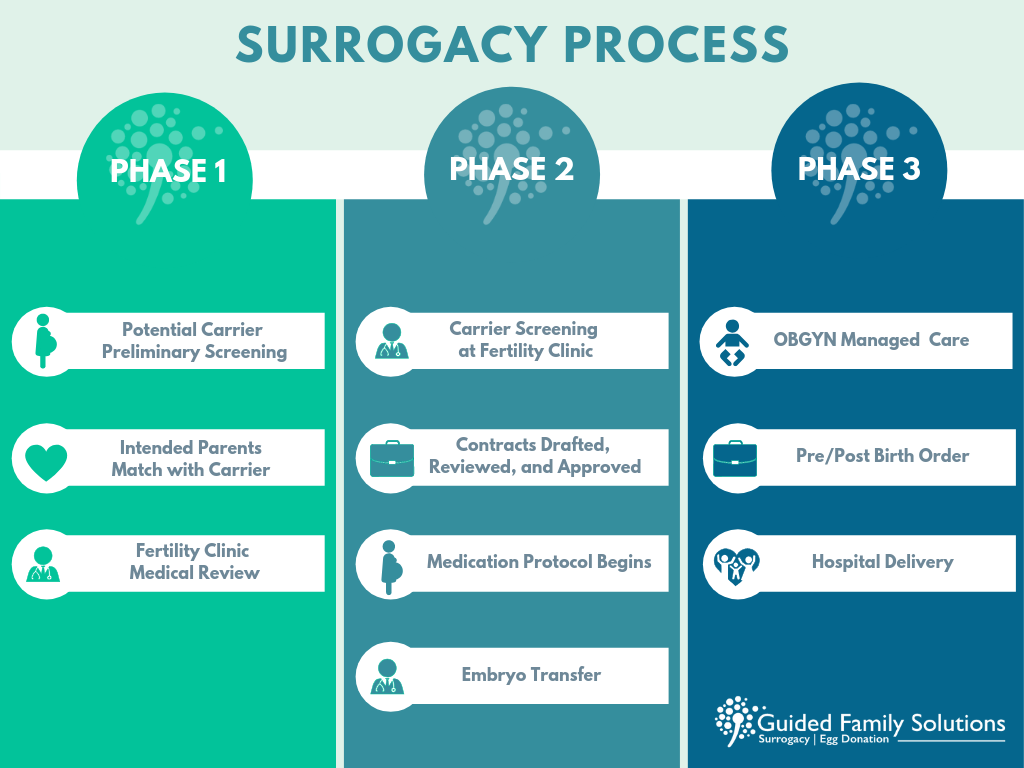 Compensation
Surrogates are free to to set their own carrier fee schedule.
Base compensation depends upon experience, location, and surrogate friendly health insurance.
Example of Carrier Fee Schedule:
Base Compensation: $25, 000 - $35,000
Injectable Meds: $500
Embryo Transfer:$500
Mock Cycle: $500
Invasive Procedures:$500
Lost Wages: Varies
Monthly Allowance: $200
Multiples: $5,000
C-Section: $3,000